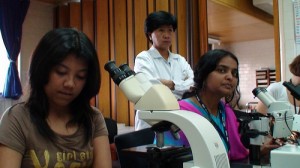 Sri Lanka is making a bid to become a "hub" for international education in Asia, reported Dinesh De Alwis of University World News, with the Ministry of Higher Education to award 150 students scholarships to study at local universities. De Alwis quoted Higher Education Minsiter SB Dissanayake, who said:
Under this programme, foreign students get full scholarships and have a chance to study medical, management, law, engineering and arts degrees. Students will also be assisted with living expenses. This is the first time that Sri Lankan universities [will] get the opportunity to have foreign students," he said, adding that it would also help universities to achieve international standards […] The aim is to make Sri Lanka the hub of knowledge in Asia.
Sri Lanka's Department of National Planning hopes to attract an additional 50,000 foreign students by 2020, De Alwis wrote, adding that certain education groups inside Sri Lanka have voiced opposition to the plan. They insist an influx of foreign students will take opportunities away from locals, many of whom are already disadvantaged by low incomes.
This is far from the only step Sri Lanka has taken toward internationalizing its education system, however. In February 2011 the Higher Education Minister announced a partnership with the US government to provide over 10,000 local students with scholarships to learn English.
Mailchimp form

Topics

Facebook Like Box

Tags